I was long overdue for a good line cleaning. First pour out if the keezer was a little funky. I decided to just replace all of the lines and do a deep clean from the faucet to the keg connector. Friday night I took everything apart for an overnight soak in some cleaner. Saturday morning I assembled my new lines (btw, here is a great deal for some line at Amazon) and prepared to reinstall everything on the keezer after a final clean and rinse. I opened up the keezer lid and was met with a sight no brewer wants to see: kegs swimming in beer.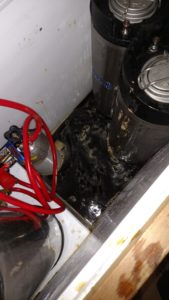 Somehow when I was removing the line I managed to loosen the beer out keg post on my keg of 1.5 year old barleywine. Foam was coming out of the base of the post when I opened it up, so I lost a nice amount of CO2 as well. The keg that I had been planning to bottle so I could get the keg back was now empty. No more beer to enjoy let alone bottle.
Of course I had a full afternoon of errands and work planned when I was now forced to clean up this mess. I removed all of the kegs and stared at all of the beer in the bottom of the keezer as a single tear rolled down my cheek. I grabbed my autosiphon and used that to pump out the beer into a bucket. After filling the bucket once the siphon was getting too much air so I lifted one end of the keezer to get the beer to pool in one corner.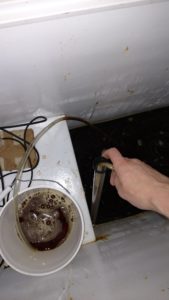 After pumping everything out I learned I had lost over two gallons of the barleywine. Sadly, I don't have anymore in the pipeline which is a big failure on my part since this beer was brewed in December 2014. After everything was cleaned up and put back together I immediately ordered a socket that will fit on the Cornelius keg posts (Morebeer). I'll be checking the posts of every keg I own when the socket arrives.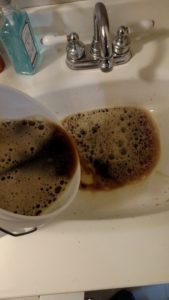 Farewell, sweet prince.